THE DIFFERENT FORMATS OF VIRTUAL EVENTS
Under the current circumstances, more and more companies decide to digitize their events to maintain the link with their customers, partners, and teams.
Far from the offices and physical meetings that used to punctuate our daily lives, we must get used to new working habits using new technologies and digital solutions, to share impactful content while promoting human and relationships.
The digital events' trend attracts the vast majority
Many people were wondering about this new trend of digital events, but the virtual format convinced both the public (online concerts, museum visits, etc.) and the professionals (seminars, Kick Off, team building, etc.) thanks to its numerous advantages. This format allows a flexible and changing organization compared to face-to-face events where the number of seats are limited. The virtual format is also very accessible to all participants who can attend an event from anywhere in the world and at any time. Finally, it is an environmentally friendly format that requires less travel and little printing of documents, thus contributing to the energy transition.
The virtual turning point that professional events have taken is therefore essential today. In virtual or in hybrid format (both physical and virtual), these remote events are constantly spreading and attracting more and more people. To avoid digital tiredness and frustration, it is necessary to carefully adapt the structure of these events to offer a qualitative and innovative professional experience.
The different formats of virtual events
Here are some digital event formats that have particularly developed in recent months and that Rouge Vif Events organizes every week for its customers and partners:
Webinars and online conferences: for events with different speakers who animate a videoconference on a specific topic. Participants do not speak directly but can participate via Q&A, surveys, activities, etc. This is based on a relevant content as well as interactions between the speakers and the moderator to create a dynamic webinar.
Workshops and online meetings: for more engaging events, in smaller groups, with the possibility to create different simultaneous sessions for workshop. This format allows all participants to talk and take part in the debates. These meetings are often combined with an audience interaction solution to engage with the participants.
Event video recordings in a studio: for seminars and conventions with high stakes, it is possible to provide an video recording made by a professional team, with a content filmed live or ahead of the event and broadcast live. These recordings can be combined with a staging work and a TV set to give a very professional aspect to the event.
3D virtual events: to organize gatherings of any size by creating an immersive virtual world. This format offers the experience of real meetings and discussions with the creation of avatars and the possibility of live discussions.
Virtual trade shows: a digital meeting between exhibitors and visitors on a specialized platform around a given theme, which reproduces in a very realistic way the atmosphere found on a face-to-face trade show. Exhibitors can chat or video chat with visitors on their booth or in private rooms.
All these events can be combined with virtual audience participation to give a more enjoyable, participative, and fun aspect to the event, allowing to create a connection with the participants and to collect more feedbacks from the guests. Those animations can be adapted to all types of virtual events, both internal and external, and the formats are various: digital quiz, online escape game, digital rally, photo wall, cocktail workshop, online tasting, etc.
The support of event agencies, a shared expertise
In the future, these new formats will coexist with face-to-face events and complete the communication possibilities available to companies. Event agencies have a key role here: helping companies and institutions to build a main thread suitable to the digital format, offering them innovative virtual event formats, guiding corporations on the solutions that best suit them, advising them on the tools and skills to carry out their event projects and support them in the organization of these projects for flawless execution.
Groupe Rouge Vif, through Rouge Vif Events, has created and launched DéClic, its new "phygital" event offer, which we will tell you more about very soon in an article. To get a first glimpse of this offer, please visit this website.
*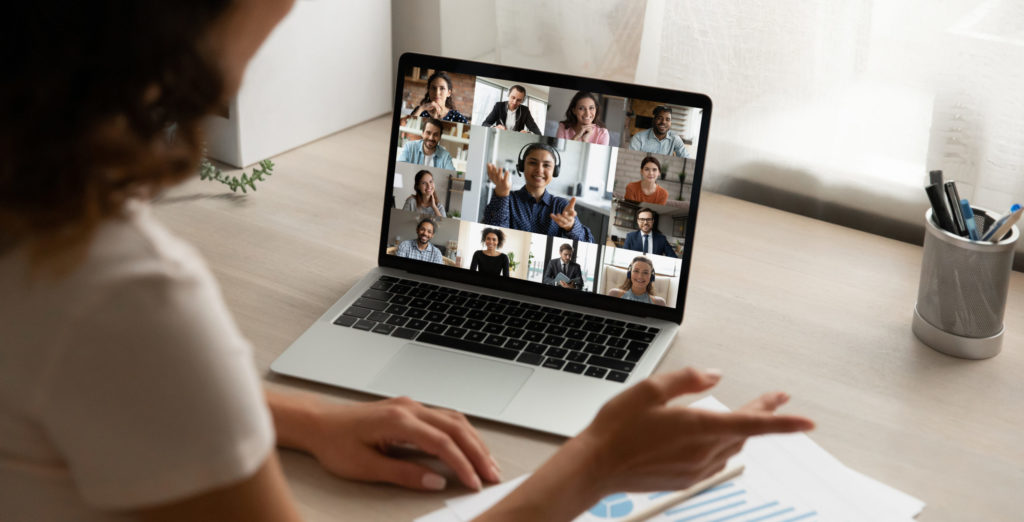 #GroupeRougeVif #eventprofs #DéClic #technology #future #livestream